First of all happy halloween everyone! I actually started writing this post yesterday and finished it now. I wish I had something halloweeny to post today but I really dont. I thought about posting about horror films I liked over the years, until I realized I barely ever watch any and most of the ones I've seen are asian. So not very halloweeny then.
So because I am in the midst of yet another celebreity fixation/crush etc, this time I am actually going to post about it. My last one, for anyone who is curious, was the lovely John Simm (who I am still fond of, of course just in a less...obssesive manner) and this time it is Tim Roth.
I know you must be asking yourself now "Is she going to devote a whole post to Tim Roth?" and Yes, yes I am." and if you are thinking "But why?" I have only one response for you. "Why
not
?"
So my first run in with Roth was in the classic film Pulp Fiction. In comemoration of that, a clip:
I love how Roth pretty much speaks the same way in Lie to Me. With that slight (and sometimes not so slight) cockney. It's funny but it was also weird as hell to hear him without it in
Rosencrantz & Guildenstern are Dead
. Speaking of which!
I saw the film last night. It was alot of fun, plenty of silly wordplay but I think Gary Oldman just about stole the show from Tim on a few occasions. He was really good and funny, Tim got to be the smart one in that pair while poor ol Roscencrantz (Oldman) was often two steps behind, not that it stopped him from making of a bunch of scientific discoveries (though without actually realizing their significance at all. lol) Both men spent the majority of the film disoriented and more than a little confused. It was fun watching Roth and Oldman mess around for pretty much most of the movie. Just to give an idea of the tone, here is a couple of short clips:
I personally loved how Rosencrantz would fuck around and do dumb things and Guildenstern (Roth) would glare at him or scold him most of the time but other times just play along. It was also funny how Guildenstern kept having these existential and philosphical thoughts and theories, often hilariously convoluted. Oldman and Roth played really well off each other. I was sad when the movie ended as it meant no more tomfoolery from those two. Speaking of the end
( my thoughts on the grand finish aka spoilers! )
In more shallow observations I was surprised by how thick Roth's hair used to look. Man 19 years will really do a number on your hairline.
This morning I saw another old film starring the Roth. It is called
Captives
. The story is about a female dentist, who is working in a british prison (WHY is she working there you ask? I have no idea. Girlfriend is crazy obv) and Roth is an inmate and thusly one of her patients and...well I think you can see where this is going. But just in case you cant I'll spell it out. THEY FALL IN LUURRRRVE. But the movie is thankfully not even remotely sappy but instead dark, intense, dirty and a little bit violent. Just how I like all my love stories! Anyway I wont put any clips but rather here is a link to the whole film on YT:
http://www.youtube.com/user/HarveyProductions#g/u
On an objective level the film is deeply mediocre, I mean I enjoyed it because it had Tim Roth lol. In fact if anyone wants a non fangirl serious review of the film you can find one here:
http://www.prisonflicks.com/reviews.php?filmID=49
I stumbled on to it by accident. But it sums up the film very well. I think for all it's faults it's worth it to watch Tim talking with that cockney of his and using those menacing stares he pretty much uses in every thing he's been in even when he's not supposed to be menacing, seriously I dont even think he was trying to be menacing half the time he was staring at the heroine in this film but it just LOOKS menacing anyway! I figure half the time he was supposed to be staring at the heroine with affection or wariness but he just looks like he wants to eat her. and not in the good way, but in the hannibal lector way.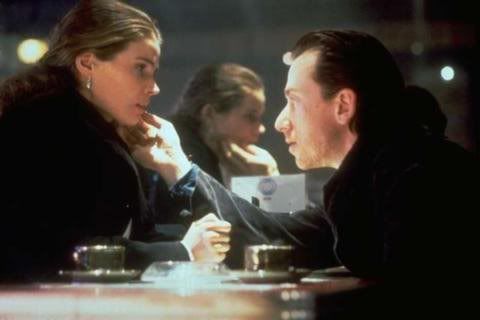 a random cap.
Oh! Funny bit of trivia. Anthony Hopkins was kind of not sure he wanted to play Hannibal, so the movie execs were considering Tim Roth instead! So if Hopkins had turned it down, Roth would have likely been Hannibal. Imagine that, Roth, a small menacing cannibal. Sorry I know I'll never get tired of making cracks about his height (or his age *immature*) but I have no doubt he would have been a suitably terrifying Hannibal. At least if his character in Rob Roy is anything to go by. For those who havent seen Rob Roy. Roth's character in that film was pretty much a sociopath. A clip! for anyone curious of Archibald Cunningham, the villainous english count Roth played:
Finally to conclude this very pointless post. I will give you the reason this whole thing started. Two...three words "Lie to Me". Now as you all know, I checked the show on a whim cause roth was in it and I liked the premise. and a new love was born! So I will end with a Lie to Me picspam...or rather I WAS going to but then I got tired and swamped with school work again. So here's a link to a bunch to a post with lots of pretty caps instead:
http://vanillabiscuit.livejournal.com/57961.html#cutid1
Everyone should check out Lie to Me. It's an awesome show, and you get to see Tim Roth point and yell at people "You're lying!" what more could you need to have an enriching television experiance?